Legacy
1.05
Legacy is a fantasy, round-based rpg with professional graphics, and really large world to explore, including tons of items and monsters. 50+ hours of gameplay!!! NEW VERSION!
Last update
20 Mar. 2006
Licence
Free to try |

$19.99
OS Support
Mobile
Downloads
Total: 214 | Last week: 0
Ranking
#283 in Games
Publisher
Redshift
Legacy Publisher's Description
Legacy News -
1.05X
(eXtra compatibility) version!!!
Sony UX (40,50), Sony TH55 compatibility
Palm Os4 compatibility (but only for hi-res devices, with at least 320x320 resolution). The 1.05X is still slow a bit on os4.
optimized drawing for UX/TH
This version is functionally the same as 1.05. If you have a device with an existing (and working) Legacy 1.05 on it, then you don't need to upgrade to 1.05X.
Additional news:

New superb expansion pack for Legacy, called
The Legend
, from Daniel Johnson.
Please follow this Direct link.
Fantastic expansion pack for Legacy, called
Revenge
, from Charles Parks.
Please follow this Direct link.
The
Official Expansion Pack
for 1.05/1.05X is available.
Please follow this Direct link.
Legacy Overview
Legacy is a classic-style RPG that contains every feature you expect from this genre! Incredible action, awesome sounds, intense combat, cunning puzzles, and game enhancing sound effects make this the RPG experience you've been waiting for!
Experience this newly designed, game system that utilizes the best elements from classic RPG's that you have come to love such as: Eye of the Beholder, Black Crypt, and Might&Magic. This novel and innovative approach to turn-based game play is so revolutionary and involving you will swear it's real-time!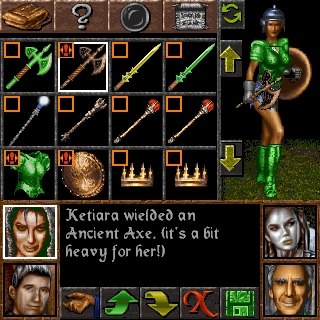 Awards


PALM GOTY 2003 by Pdarcade!
Landscape Support
The game supports landscape view on devices with initial 320x480 resolution, and you can rotate the screen in real time using the icon on the main menu. Of course both left-landscape and right-landscape are supported.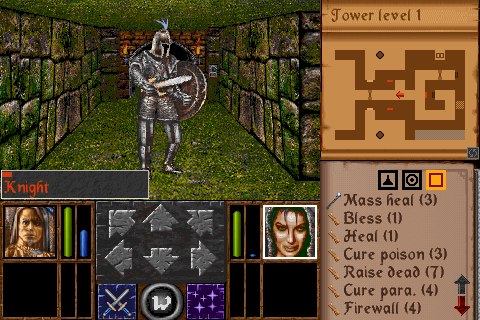 Legacy Features
Huge worlds to explore, with FREE world editor to provide customized continuous game play that will make this the most played game in your collection.


Beautifully rendered, eye-popping graphics never before seen on this platform.


Hours of play that will keep you coming back for more and more.


You're not alone in this game. Staying true to the RPG theme, you create your own party of multiple talented members.


Hundreds of different items, armors, and weapons each with their own special attributes. Encounter items made from treasured favorite materials like EBONY and MITHRIL.


Detailed info on every member, item, spell gives you the information you need to set up your ideal party or conquer any foe.


Visit the taverns and join in a fantasy card game where you can even use spells to play.


Beware the many types of monsters, each also with its own unique properties including: attack/defend capabilities, resistances, life force, spell knowledge, and spell chance. These monsters are not just sitting around waiting for a fight, they interact with the environment. Don't count on that monster to stay put behind closed doors, some types can even open doors!


Experience our distinctive wear/wield system, meaning what you see is what you get. Check out these pictures on the right side


Beautiful animations and sound effects. Doors realistically open and close. Candle flames, monster activities, ambient sounds and other special effects create the perfect RPG environment.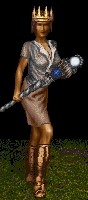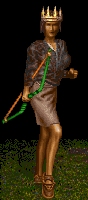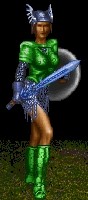 Compatibility
New in 1.05X: compatibility for Sony UX, Sony TH, and Palm Os4 (hi-res) devices.
The game is optimized for these devices (in landscape mode): Sony NX, NZ, Tapwave Zodiac, Tungsten T3.

Also impressive on hi-res devices, such as Palm Tungsten C, E, T, T2, Zire 71, Sony Clie T, TG.

Look for Similar Items by Category
Feedback